On this Twenty Something Talks, we have the lovely blogger Jessica from Magnets from Everywhere!
Mother, wife, traveller, blogger- she can do just about anything! You can read about her family travels and what life is like as a family of four at her website. Trust me, she's worth the read! Without further ado, here is Jessica!
We'll jump right in with a serious question – How many pairs of shoes do you own?
Six, but my goal is two. I'm always open to suggestions for great wear-anywhere shoes!
You're in luck! I have just as many suggestions for shoes as I do shoes, Jessica, and that's saying a lot because I have a ridiculous amount.
Now that we have that out of the way… how do you feel about the word moist?
Yuck.
Amen to that! In your experience, what is one truth about being a twenty-something?
There will always be people who disapprove of you at this age. Maybe they think you should be settled down already, maybe they think you settled down too quickly. People just want to validate their own choices (or sometimes recommend anything but!)
So true. Unfortunately, you can't win 'em all! Next is the question only I deem serious – which Chris? (Hemsworth, Evans, Pratt and Pine)
Chris Hemsworth, although I had to look up all of these guys to remember which ones they were!
Probably doesn't help that they're all attractive men! For my favourite question, sum up your 20s so far with one gif!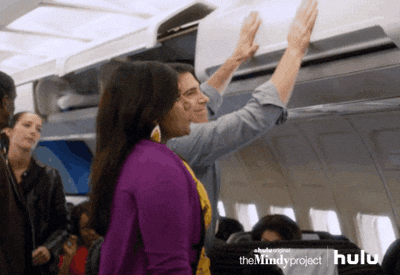 So far that's one of my favourite answers! Mindy Lahiri is my hero. She shows that you don't have to live your life the way everyone else expects you too. Speaking of which, what is your least favourite twenty-something stereotype?
That we all live with our parents…
I wish I didn't fit that stereotype myself. If you had real advice for someone in their twenties what would it be?
Don't feel like you need to get your travel out of the way before you "settle down". Getting married and having kids makes travel different but still super fun in its own way! I've been married 6 years with 2 kids and don't feel like I've "settled down" at all!
I can imagine travelling with kids isn't very settled, but I'm sure they love it! Any last words for our readers?
I'm on the opposite side of the stereotype of millennials in their 20s. I married young, had a successful early career, had my kids young, and then left my career to raise the children. People throw a lot of shade and assume that I'm naïve. Actually? I'm happy and so is my family. If I weren't married yet, people would be throwing shade at that too! Haters gunna hate!
Serious words to live by. You aren't going to make everyone happy so why not make sure that you are happy yourself. Jessica, thank you so much for taking the time to answer our questions!
If you haven't already checked out Jessica's blog, what are you waiting for? Check out magnetsfromeverywhere.com to follow her adventures! Her blog also has its own Facebook page and Instagram !
Tune in Sunday for a new personal blog post, and Tuesday and Thursday for some more Twenty Something Talks!
SaveSaveSaveSaveSaveSave
SaveSave