Alternatively titled, what to do when the umpteenth relative asks you why you're single
Public Service Announcement
Welcome to the second post in Dateless December, my series on being single. This week I'm here with a holiday survival guide for singles. I make a lot of jokes in this one (or attempt to at least) but I actually LOVE the holidays. Seriously, I own three separate Christmas sweaters, two of which feature jolly pugs, and a hat with pugs that says bah humpug. But, I digress. Hopefully, my humour comes across and if not, my apologies. Also, if you're a family member reading this, obviously none of this refers to you 😉
Dear Twenty Somethings,
The holidays are such a joyous time. Outside looks like a winter wonderland of white snow, unidentifiable gray slush, and blustering winds that threaten to knock you down. The streets are filled with people taken with the wonderful holiday spirit. Malls are bursting at the seam with miserable shoppers who look like they'd rather be anywhere else but love stopping in the middle of the mall to take a smiling selfie.
Holidays are a time to listen to cheery songs about red-nosed reindeer or a creepy man trying to convince an unwilling woman to stay with him for a romantic evening despite her protest and concern that he put something in her drink.
Most importantly, the holidays are time to celebrate with your loved ones. Holiday parties and get-togethers are sweet occasions where you can find yourself fielding questions about why you're single or suggestions to help you "find your true love." Or pretending to be interested in hearing about how your third cousin (twice removed) has finally found love while Aunt Sally pats your arm reassuringly. Nothing says happy holidays like an interrogation fit for a CIA movie or a film on the Spanish Inquisition.
As a single woman with no prospects, I have to say that I notice it a lot more during the holidays.
The holiday season seems to be the most romantic time of the year. Christmas markets are a couples paradise, aka a secret ploy to show you a billion and one pictures of happy couples posing in front of various holiday-themed treats. Cold weather equals more people holding hands and more matching outfits. Who doesn't love cuddling by the fire with hot chocolate and someone you love? BLEH! Actually, to be honest, it's pretty sweet but this is Dateless December after all so let's embrace our singledom! Holiday rant aside, how can single twenty-somethings survive the holidays? I'm so glad you asked. I have much experience navigating the holidays while being #foreveralone so I put together this handy-dandy guide. So grab a warm beverage, add Baileys if you are of legal drinking age and let's begin.
The Single Twenty Something's Holiday Survival Guide Tip #1
Pretend to have laryngitis. This tip is slightly dangerous. Sure, it prevents you from having to talk to people and answer their barrage of questions about your relationship status or when you plan on "settling down". The downside is that you have to listen to people drone on about their significant other or the blind date they just have to set you up with. Make sure to have an escape plan if you get caught in that trap. My suggestion is to pretend that you hear someone calling your name. Whatever excuse, remember that it should be something you can mime because you're supposed to have lost your voice.
The Single Twenty Something's Holiday Survival Guide Tip #2
Create a list of anticipated questions and answers to prepare for the inevitable barrage of questions you will get at family and work functions. Here are a few to start you off:
If someone asks if you are dating anyone, you can respond by saying "I was dating this one guy but he actually believes that the earth is round so I had to dump him."
When someone mentions a guy they want to set you up with, be sure to let them know you only date men who are 6 ft 1 and have criminal records.
Should you be faced with the "when can I expect grandchildren/nieces/nephews out of you" question, an appropriate response could be "how did you know I was pregnant?"
The Single Twenty Something's Holiday Survival Guide Tip #3
Hire someone to pretend to be your boyfriend or fiance and take them to all your holiday parties and family get-togethers to convince them that you are in a relationship. You're sure to avoid questions about why you're single. Although, be sure to be prepared for confused family and friends who will probably question why they've never met this guy before. Bonus points if they end up falling in love with you. At least that's how basically every Hallmark holiday movie ends.
The Single Twenty Something's Holiday Survival Guide Tip #4
I have one word for you… alcohol (#drinkresponsibly). If you're legally allowed to drink alcohol, why not? Of course, I advocate for safe drinking (do not drink and drive for the love of all that is holy) and I do not endorse using alcohol as a coping mechanism. However, a little splash of Baileys in a hot beverage or a nice glass of wine to make listening to your distant relative drone on about their sister's cousin's uncle's boss' friend's son who would be just perfect for you, why not?
The Single Twenty Something's Holiday Survival Guide Tip #5
Breathe! Remember that you're a strong, independent woman who don't need no man. Focus on the good side of season spread, some holiday cheer, and enjoy time spent with loved ones, even if they pry too much into your dating life.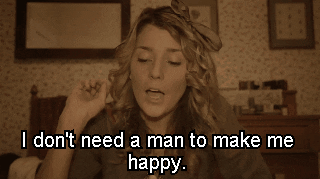 Smile at the happy couples who managed to find love because it's sweet. Be friendly to those frazzled customers who don't want to be shopping. Remember to be kind to everyone around you, including retail workers. Remind yourself of the true meaning of the holidays because that will be what will help you get through.
Hope everyone is enjoying Dateless December so far!
Be sure to check in next Sunday at 6:00 PM EST for our third (and second last) Dateless December post. Until then…
Truthfully yours,
Sam
P.S.
What is your best holiday tip? Leave your answers in the comment below.
SaveSave
SaveSave
SaveSave