This week on Twenty Something Talks, we interviewed good friend Beth (also known as the Bethest, patent pending).
More than just the Bethest, her intelligence, kindness, and great hair make her an inspirational person to know. She also thinks Fetty Wap is a sweetheart and knows a great deal about B.o.B. She also has her own blog, which you should definitely check out! Without further ado, here's our interview with Beth.
We'll start off pretty easy. What is the best dog breed?
Australian Shepherd!!!!!!!!!!
The one with the blue eyes has my heart! Is there a question about being in your twenties that you hate when people ask?
 "What's your plan for the future?"
This question has caused me so much stress, especially in my early twenties when I was still completing my undergraduate degree.
My major was so broad, and I found it difficult to see myself using what I was learning in a career. My marketing minor was more practical but still very broad and high-level. I felt like I didn't fit in the marketing program because I couldn't see myself as a young professional. I'm shy and have so much fear of doing something wrong… so I get stuck. Attending Seneca for Public Relations and Corporate Communications has helped me see myself in a career. It's already given me more confidence that I can work in Communications and actually enjoy it. Now if we could start classes again that would be GREAT!
So, I guess now I don't hate that question. I have an answer. But I still think it puts so much pressure on people in their early twenties. Nobody has everything figured out, what makes you think we do?
I hate that question too- the future is sometimes scary. On a much happier note, if you could sum up your twenties so far with a gif, what would it be?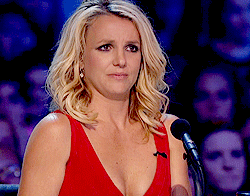 Enough said.
Britney Spears is all of us! Here's a more serious question- which Chris?
Mmmmmmmm. Pine because I never remember his name and just had to Google "Chris Pine" to remember his face.
What is one truth about being a 20 something?
It's a process. I feel like I'm watching myself mature and learn and grow. Sometimes I just stop and realize I've said something or done something I wouldn't have before. This feeling is especially strong when I see an 18-year-old with the I'm An Adult Now Syndrome.
Agreed! Wise words (told you she was smart!) Any last words?
Advice to everyone (and to myself):  Take the chance to start the life you want to lead. We are pressured by every societal institution to become a certain something or someone. Don't listen. And don't put that same pressure on yourself. Follow your heart!
Thanks so much again to Beth for talking with us. Her advice is much better than our (unsolicited) advice. Please check out her work here! You won't regret it!
SaveSave